Introduction
Read the list of "Top 5 SEO WordPress Plugins for increasing website performance" that you just need to know as an SEO expert or website owner. We have described the Top 5 SEO WordPress plugins & tools in this article. Find the links to these SEO tools that are also attached.  
What is WordPress Plugin? 
The plugins have a crucial part in how well your website performs or appears at the first stop of google Search. Using the WordPress Plugin, any webpage or site can rank. You must use the top SEO for WordPress plugins, which we will provide in this article. 
To enhance the overall appearance, usability, and effectiveness of your WordPress site, plugins can be applied. The customer experience from your site can be significantly enhanced by using them properly if you install more than one.
Even better, anyone can install the extensions on your website without knowing a single line of code.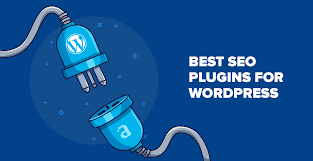 List of Top 5 SEO for WordPress Plugin
1) YOAST SEO
Yoast SEO assures your website complies with the most stringent technical SEO requirements. Furthermore, it provides you with the resources necessary to improve the readability and SEO of your material.
The easiest and most effective SEO plugin in recent years has been Yoast SEO. Its excellent SEO features assist in maintaining the health of your website's optimization.
Your search rankings can be improved by optimizing your content for SEO. Yoast SEO can organize your content in a way that is SEO-optimized, making it easier for users to find the needed content on your website.
Benefits of YOAST SEO
More Visitors on Google Search & Social Media Platforms

Avoid Dead Links 

Quality Content and Link Suggestions

24/7 Customer Support System 

Helps in saving more time 

Optimization of your posts

Improve content for Search engine

Powerful internal linking tools 

Automatic Adds Structure Content

World Class SEO expert support 
Link for the same:- https://yoast.com/wordpress/plugins/seo/ 
2) SEOPRESS
The easiest plugin to improve and turbocharge SEO is SEOPRESS. The user interface of SEOPress is more intuitive and simple to use for new users. It offers numerous SEO techniques and features, like XML pictures, redirection, and title. A higher rating in the search engine results would result from improved SEO execution.
The top WordPress SEO plugin for 2022 is SEOPRESS. More than 2,40,000 people have downloaded this. A seasoned SEO tool with 23 language options is SEOPRESS. With a well-known website builder, e-commerce, translations, speed, and analytics tools, SEOPress integrates without a hitch.
Benefits of SEOPRESS
Quick Optimization

Increase in the sales and conversion

Boost Your Traffic 

Useful for everyone bloggers, small business owners, SEO experts, developers, and agencies. 

No Advertisements

It's White Label SEO 

Helps in Increasing Google Ranking 

Monitors Backlinks Automatically

Image Optimization Also 

Simple, Fast, and Powerful
 Link for the same:- 
3)
THE SEO FRAMEWORK
175000 business owners now prioritize using the SEO Framework when trying to expand. To make the most of the plugins, the Search engine optimization for the WordPress plugin includes instructions. the volume of traffic to your website.
Your websites can benefit from the addition of strong features like traffic statistics, content assessment, data structures, and anti-spam thanks to the SEO Framework.
The finest option that produces results is the SEO Framework. A platform that is automated raises the caliber of websites. Extensions for WordPress that are sophisticated, intelligent, and API-driven can help your website rank higher.
Benefits of THE SEO FRAMEWORK 
Only White Hat SEO 

12× time faster than others 

No Third-Party Integration

Security Track Record

Easy to Use Plugins

Automated SEO Framework

Make your website more accessible and beautiful

16 Page Types + 50,000 Plugins + 4,000 themes

More Extension Manager

Increases organic traffic 
 Link for the same:- https://theseoframework.com/ 
5) WP ROCKET
WordPress caching plugins are only one aspect of WP Rocket. It is the most effective way to shorten load times, raise Page Speed ratings, and enhance Core Web Vitals. An all-in-one plugin for web performance is WP Rocket.
The popular WordPress cache plugin, according to WordPress experts, is WP Rocket, which will greatly improve website speed and prepare this for the Standard Web Vitals. A premium caching plugin for WordPress is called WP Rocket.
It is the most potent caching tool, according to WordPress experts. Both experienced and novice WordPress users can utilize it with ease because of its extensive settings and automatic optimization features.
Benefits of WP ROCKET 
Discover high performance

Page speed score increases 

Saves lots of time 

No tech excellence or coding required

Cutting Edge Technology 

Best E-Commerce Optimization Options 

GZIP Compression 

Most popular plugins and themes 

Easy Customization 

Reduce Latency and Improve Availability

 

Link for the same:- 
https://wp-rocket.me/?campaignid=12123134354&adgroupid=115624290686&adid=549803616223&gclid=Cj0KCQjw8O-VBhCpARIsACMvVLOxvQhqA8ruYrl6QtTJ8nV63c8TVl-U5fTBqsRWWnp6aoMBj4_3-CsaAt-LEALw_wcB 
Conclusion
Now that you are aware of the crucial considerations that must be made before selecting a WordPress SEO plugin, you can pick the ideal plugin for the website depending on the info in this post. We hope that you found this material useful and will put it to use to further your outstanding knowledge.